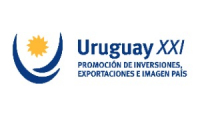 Company description
See translation
---
Uruguay XX es la agencia de promoción de inversiones, exportaciones e imagen país. Promueve las cualidades de Uruguay como proveedor de bienes y servicios de calidad y alto valor agregado. A su vez, es el primer punto de contacto para el inversor extranjero, y brinda apoyo personalizado y gratuito a quienes estén evaluando realizar su inversión en Uruguay, así como a quienes ya están instalados en el país.
Sector / Industry
---
Products and Services
Badges
These badges certify that certain information declared by a company has been verified, so it can increase the reliability and visibility of its profile.
What does this badge mean?
ConnectAmericas has verified this company is legally constituted and the people linked to this enterprise are able to do businesses.
Contact this company through Start-Up Nation Central
Please fill the contact form below and you will be reached via email. Please note that messages must be in English