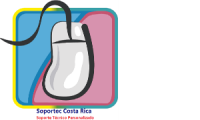 SOPORTEC COSTA RICA S A.
Costa Rica
26 employees
Established in 2008
Company description
See translation
---
SOPORTEC COSTA RICA S.A., es una sucursal de SOPORTEC PANAMA, empresa dedicada a la asesoría, soporte técnico y desarrollo de soluciones administrativas, financieras, contables, para la pequeña y mediana empresa "PIMES", fundada en el año 2008 en Ciudad de Panamá. Su especialidad es dar soporte técnico telefónico, acceso remoto y presencial, además de la configuración, instalación y capacitación de cada uno de los Software que ofrece al mercado Panameño. Para SOPORTEC COSTA RICA es de gran importancia brindarle a nuestros clientes y amigos un servicio de acompañamiento durante los primeros meses de uso, después de la instalación y capacitación de los diferentes módulos de los Software, esto para que gradualmente entre lo aprendido en la capacitación básica y las dudas que saldrán en el proceso de uso de la herramienta, nuestro equipo de ascensores junto a los usuarios de su compañía buscaremos el máximo provecho que aporta esta nueva tecnología a favor de su representada. Los paquetes que ofrecemos están pensados de forma que cualquier funcionario con un entrenamiento adecuado pueda operarlos, son amigables con el usuario, los precios son accesibles, módulos basados en las necesidades reales del comprador; versatilidad en cuanto al manejo de bases de datos, utilización de los paquetes en forma individual o en red. Nuestro éxito ha sido el soporte técnico con acompañamiento. VISIÓN: Buscaremos para nuestros clientes el mejor software acorde a las necesidades del giro de su negocio. MISIÓN: Ofrecer soporte técnico con una asesoría profesional y honorable, en el campo de Bienes y servicios para clientes interesados en apoyarse en la tecnología Administrativa. Nuestro compromiso: Asesorar al empresario a tomar la mejor decisión al adquirir el software que requiere su negocio, en cualquier zona del territorio Nacional. Para SOPORTEC COSTA RICA S.A., es un gusto poder servirles. Nuestro Lema: Soporte Técnico personalizado
Sector / Industry
---
Products and Services
Commercial information
---
Product and services:
Instalamos Configuramos y Capacitamos; Somos Canal integrador de Software Saint. Tenemos Software Administrativos, Contables, Planillas, Restaurant, POS, Producción, Servicios Médicos, Mantenimiento.
Main customers:
Todo tipo de empresas que necesiten un sistema administrativo para su negocio esta puede ser la pequeña y mediana empresa "PIMES"
Certifications:
Software Saint de Venezuela.
People in this company (1)
---
Contact this company through Start-Up Nation Central
Please fill the contact form below and you will be reached via email. Please note that messages must be in English