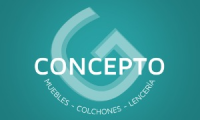 Muebles Concepto G
Colombia
10 employees
Established in 1989
Company description
See translation
---
Tienda Oficial https://www.mueblesconceptog.com En Muebles Concepto G, trabajamos la madera desde 1989, y hemos continuado hasta hoy, gracias a este legado familiar. Fabricamos y restauramos, en pinturas, espumas y telas, con mayor resistencia al desgaste, y a un precio justo. Nuestros acabados impecables, hacen la diferencia. Entregamos en las fechas acordadas, dentro de todo el territorio colombiano. Si deseas adecuar tu hogar u oficina, con diseños y medidas personalizadas, nosotros somos la elección idónea, para que cumplas con ese propósito. Apoyamos el consumo responsable, impulsando la restauración de muebles; así ahorrarás dinero, los seguirás conservando por gusto o valor sentimental y tendrán nueva vida tus espacios. En alianza con Colchones Romance Relax, Distrihogar y Confort Vital, recibirás productos, en espumas y resortes de alto soporte y suavidad, que se adaptan a tu cuerpo, para un mejor descanso. En muebles encontrarás diseños similares; la DURABILIDAD de nuestros productos, nos hace DIFERENTES. Somos Muebles Concepto G
Sector / Industry
---
{{industry.name}}
Products and Services
{{pas.productName}}
HS code: {{pas.hsCode | limitTo: 23}}
Show more
Commercial information
---
Main customers:
1.Empresas y Empleados para descuento por nómina -- 2. Asociados a Fondos de Empleados y Cooperativas -- 3. Personas referenciadas por clientes actuales -- 4. Personas que compran en nuestra página web -- 5. Personas que visitan nuestras redes sociales --
Affiliations:
Cámara de Comercio de Bogotá, Bazzarbog, Yoestoyenlinea.co, Colombia Productiva, iNNpulsa Colombia
Badges
These badges certify that certain information declared by a company has been verified, so it can increase the reliability and visibility of its profile.
What does this badge mean?
ConnectAmericas has verified this company is legally constituted and the people linked to this enterprise are able to do businesses.

Women-owned or women-led company (self-declared)
What does this badge mean?
This company has declared that: - Its general management and/or its budget decisions are in charge of women, or; - At least 51% of the company is owned by 1 or more women
People in this company (1)
---
Contact this company through Start-Up Nation Central
To get in touch with the ConnectAmericas support team, please send an e-mail with your request to soporte@connectamericas.com and we will get back to you briefly.