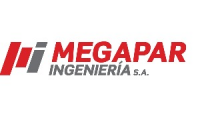 Megapar Ingeniería S.A.
Paraguay
20 employees
Established in 2012
Company description
---
We are a Fire Protection & Engineering Company. Our scope includes from Engineering & Consulting, to supply, installation and post sale services. The solutions we provide include a 360° scope on fire protection including pasive and active fire protection solutions. Fire Detection, Fire Sprinkler systems, Clean Agent Systems and others. We work with International Standars such as NFPA and Factory Mutual FM. Our main customers are Agroindustrial Facilities, High Rise Buildings, Financial and Telecom Companies, Power Plants and Substations.
Sector / Industry
---
Products and Services
Commercial information
---
Main customers:
ADM Archer Daniels Midland, Cargill, IMPSA, CIE, Tecnoelectric, Tecinci, Jimenez Gaona y Lima, RIEDER SACI, Banco Atlas.
People in this company (1)
---
Contact this company through Start-Up Nation Central
Please fill the contact form below and you will be reached via email. Please note that messages must be in English