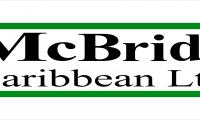 McBride Caribbean Ltd.
Barbados
26 employees
Established in 1989
Company description
---
McBride Caribbean Limited is a wholly owned subsidiary of regional conglomerate Goddard Enterprises Limited and is the largest and leading manufacturer of aerosol products in the Caribbean. McBride currently manufactures insecticides, insect repellents, disinfectant spray and air fresheners which it markets under the brand names Bop, Suretox, Beep and Go!. These products are distributed in twenty-six markets in the Caribbean, Central and South America, where they often enjoy market leadership. McBride also offers contract filling services to aerosol brand owners. Our Vision To be the leading manufacturer of world class consumer products. Our Mission Statement To be the most reliable supplier of high quality consumer products while developing mutually rewarding relationships with all stakeholders; ever mindful of our environmental responsibility.
Sector / Industry
---
Products and Services
Commercial information
---
Main customers:
Alstons Marketing Company Ltd.
Affiliations:
Barbados Manufacturers' Association
People in this company (1)
---
Contact this company through Start-Up Nation Central
Please fill the contact form below and you will be reached via email. Please note that messages must be in English