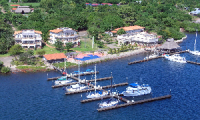 Marina Puesta del Sol
Nicaragua
76 employees
Established in 2004
Company description
---
Proveedores de servicios turísticos como: Alojamiento, Renta de Muelles, Pesca Deportiva, Alimentos y Bebidas y otros afines promoviendo las bondades de la naturaleza en nuestro entorno.
Sector / Industry
---
Products and Services
Commercial information
---
Product and services:
Alojamiento, Alimentos y Bebidas, Renta de Muelles, Pesca deportiva, Luna de Miel, Surf.
Main customers:
Dueños de Embarcaciones turísticas, pescadores deportivos, Empresarios, dueños de negocio, Cuerpo diplomático.
Certifications:
Tripadvisor.
Affiliations:
CANATUR, COSEP, AMCHAM
People in this company (1)
---