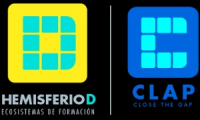 Hemisferio D SAS
Colombia
30 employees
Established in 2010
Company description
---
We develop tech-based solutions for corporate training. We have two complimentary business units that offer: 1. On demand or customized content development in formats such as microlearning, serious games and mobile learning. 2. Cloud-based, last generation learning management system with optional administrative (BPO) services.
Sector / Industry
---
Products and Services
Commercial information
---
Main customers:
Compensar, Haceb, Cruz Roja, Colmena, Banco Caja Social, Esenttia, Sura, EMI, Grupo Aval, Emermédica, AXA Colpatria, Chevyplan, Socya, RCI, Coopidrogas, Sigra, Alico, FUndacion Grupo Social, Aseguradora Solidaria, Ayenda, Coopservir, among others.
People in this company (1)
---
Contact this company through Start-Up Nation Central
Please fill the contact form below and you will be reached via email. Please note that messages must be in English