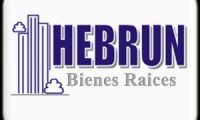 HEBRUN Bienes Raices
Venezuela
6 employees
Established in 1992
Company description
See translation
---
Somos una organización Inmobiliaria con visión de futuro, filial del grupo BRUN, San Antonio Texas.. HEBRUN: Se consolido durante más de 25 años, desarrollando Estrategias de Marketing Inmobiliario, aplicando Gestión Inmobiliaria Profesional, para la Venta, Compra, Arriendo, Alquiler de Inmuebles, a través de nuestros programas: 1)HEBRUN Partners: Refiere y Ganas 3) HEBRUN REM Real Estate Member 4) HEBRUN GIP Membresía 5) HEBRUN Showroom: Gestión Inmobiliaria Digital 6) HEBRUN Fipcentro: Real Estate Training
Sector / Industry
---
{{industry.name}}
Products and Services
{{pas.productName}}
HS code: {{pas.hsCode | limitTo: 23}}
Show more
Commercial information
---
Main customers:
Gestión Proyectos Inmobiliarios - Real Estate Training - Consultoria Inmobiliaria
Promotional marketing materials:
Badges
These badges certify that certain information declared by a company has been verified, so it can increase the reliability and visibility of its profile.
What does this badge mean?
ConnectAmericas has verified this company is legally constituted and the people linked to this enterprise are able to do businesses.
People in this company (1)
---
Contact this company through Start-Up Nation Central
To get in touch with the ConnectAmericas support team, please send an e-mail with your request to soporte@connectamericas.com and we will get back to you briefly.