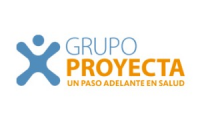 Grupo Proyecta
Argentina
105 employees
Established in 1997
Company description
See translation
---
Grupo Proyecta es una empresa que brinda servicios integrales en salud con una trayectoria de 20 años. Farmanexus, ofrece servicios de administración y gestión de medicamentos. BLOSSOM DMO, brinda servicios para gestionar poblaciones a través de distintas plataformas tecnológicas que permiten la detección, y tratamiento de las enfermedades crónicas no transmisibles. Cuenta con consultorios propios. RSALUD es una publicación con eje en la responsabilidad social en salud y medio ambiente.
Sector / Industry
---
Products and Services
Commercial information
---
Main customers:
CLINFARM ; OSFE, OSPLAD, OSEIV, ROCHE, OSPTV, PREVENCION ART, RED SOM, HEALTH SERVICES
Certifications:
IRAM ISO 9001:2008
Affiliations:
Cámara oficial de droguerías y distribuidoras especializadas (CADDE), Consejo Profesional de Ciencias Económicas de la Ciudad Autónoma de Buenos Aires
Badges
These badges certify that certain information declared by a company has been verified, so it can increase the reliability and visibility of its profile.
What does this badge mean?
ConnectAmericas has verified this company is legally constituted and the people linked to this enterprise are able to do businesses.

Women-owned or women-led company (self-declared)
What does this badge mean?
This company has declared that: - Its general management and/or its budget decisions are in charge of women, or; - At least 51% of the company is owned by 1 or more women
People in this company (3)
---
Contact this company through Start-Up Nation Central
Please fill the contact form below and you will be reached via email. Please note that messages must be in English