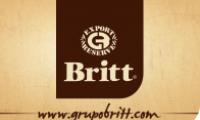 Grupo Britt
Costa Rica
3000 employees
Established in 1985
Company description
---
Café Britt produces gourmet coffee, fine chocolates, cookies, organic candies and specialty gift items.
We have more than 90 destination gift stores in eight countries. We design most of our products in house and integrate all of our physical and Internet-based points of sale.
The know-how we've acquired in creating stores and products, our impeccable logistics, excellent customer service and international workforce set us apart as an industry innovator.
Sector / Industry
---
Products and Services
Commercial information
---
Presence:
Mexico, USA, Dominican Republic, Colombia, Peru, Costa Rica, Chile, New Caledonia, Uruguay
Certifications:
ISO 14001:2004
Contact this company through Start-Up Nation Central
Please fill the contact form below and you will be reached via email. Please note that messages must be in English