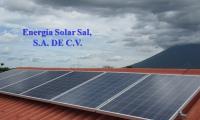 Energia Solar Sal, SA DE CV
El Salvador
Established in 2015
Company description
See translation
---
Our company is an energy systems integrator dedicated to facilitating the implementation of sunlight technologies for commercial, industrial, governmental and residential entities seeking the benefits of sunlight energy production. With in-house resources and an extensive network of industry partners, we offer a wide array of services from small scale residential and niche application projects to large scale Plant Generation Projects. La misión como empresa es ofrecer al conjunto de usuarios de energía, desde los pequeños consumidores hasta las mayores industrias, una respuesta a sus necesidades basada en la utilización de fuentes energéticas solares no contaminantes. En nuestra empresa analizamos cada uno de los proyectos de nuestros clientes, residenciales o empresariales, para garantizar la precisión en las instalaciones de equipos generadores y su adecuada combinación; logrando de cada instalación la solución más eficiente. dadas las necesidades energéticas que requiere su futuro.
Sector / Industry
---
Products and Services
Commercial information
---
Main customers:
Power Plant, Agriculture, Residential, Hotels, Production Industry
Certifications:
Our products are certified by IEC, UL, EN, IEEE.
People in this company (1)
---
Contact this company through Start-Up Nation Central
Please fill the contact form below and you will be reached via email. Please note that messages must be in English