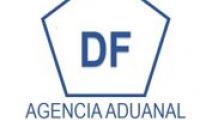 DF Consultores CA
Venezuela
26 employees
Established in 2000
Company description
---
Somos un Agente Aduanal que tiene 16 años de trayectoria, fundada en el año 2.000, autorizados por el Seniat (ente regulador en Venezuela), para actuar como Agente, ante las Aduanas de La Guaira y Maiquetía, contamos con amplia experiencia en comercio exterior, en desaduamiento de mercancías en general, así como bajo regímenes especiales. Nuestros servicios están orientados a realizar la Nacionalización de la mercancía en el menor tiempo posible mediante un servicio optimo y eficiente. De la misma forma, asistir técnica y legalmente antes, durante y/o después de toda Operación Aduanera, así como promover mejoras en los servicios y recursos técnicos. Estamos en constante crecimiento, ampliando todos los días nuestra oferta de servicios aduaneros a través de: consolidadores, transporte y almacén.
Sector / Industry
---
Products and Services
Commercial information
---
Product and services:
Agenciamiento Aduanal en importación, exportación, tránsito, consolidación y desconsolidación de cargas, operadores portuarios ya sea a nivel nacional o internacional, tanto en el campo marítimo, terrestre o aéreo. También ofrecemos servicios y asesoramiento en el campo del comercio internacional y arancelario, sin prejuicio de poder agregar cualquier otra actividad de lícito comercio.
Main customers:
Instalaciones y Servicios de Venezuela, DISTASA S.A E.S.P., Aguadia Agropecuaria, Soluciones del Futuro
Certifications:
Confiabilidad, honestidad, amabilidad, servicio y asesoria a nuestros clientes
Affiliations:
ASOCAV, Camara de Comercio de La Guaira, AVEX
People in this company (1)
---