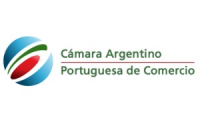 CÁMARA ARGENTINO PORTUGUESA DE COMERCIO
Argentina
1 employee
Established in 2019
Company description
See translation
---
CÁMARA BINACIONAL DESTINADA A FOMENTAR RELACIONES ENTRE PORTUGAL Y ARGENTINA
Sector / Industry
---
{{industry.name}}
Products and Services
{{pas.productName}}
HS code: {{pas.hsCode | limitTo: 23}}
Show more
Commercial information
---
Main customers:
Empresas portuguesas que operan en Argentina, empresas argentinas que trabajan con Portugal o con empresas portuguesas radicadas en Argentina, organizaciones o individuos con interés en la relación comercial bilateral asociados radicados en Portugal
Badges
These badges certify that certain information declared by a company has been verified, so it can increase the reliability and visibility of its profile.
What does this badge mean?
ConnectAmericas has verified this company is legally constituted and the people linked to this enterprise are able to do businesses.

Women-owned or women-led company (self-declared)
What does this badge mean?
This company has declared that: - Its general management and/or its budget decisions are in charge of women, or; - At least 51% of the company is owned by 1 or more women
Contact this company through Start-Up Nation Central
To get in touch with the ConnectAmericas support team, please send an e-mail with your request to soporte@connectamericas.com and we will get back to you briefly.