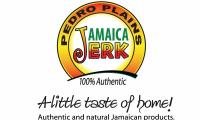 BnRs Holdings LLC
Jamaica
26 employees
Established in 2009
Company description
---
Our Company Mission is to provide the highest quality sauces, spices and service to our customers globally. Our Vision is to continue to grow our business with the customer in mind; offering the best products from "field to fork". Our Business Objectives are simple - quality, consistency, focus, growth while being good corporate citizens. Our Strengths include our sales prowess, marketing capabilities and building strong customer relationships. The greatest achievements for BnRs Holdings/Pedro Plains Jamaica Jerk Sauces so far: Awarded best sauce in the Americas for our Jerk BBQ Madness at the American Food & Beverage Show, October 2010 AND landing Kroger Supermarkets as our biggest chain to date with products currently in 175 stores and growing. Kroger has over 2,500 retail outlets in the US.
Sector / Industry
---
Products and Services
Commercial information
---
Product and services:
We market and sell a line of products under the Pedro Plains Jamaica Jerk Sauces brand. We currently offer 10 SKU's of JERK based condiments. Products are HACCP and FSMA (Food Safety Modernization Act) certified and are manufactured in Jamaica.
Main customers:
Kroger, Piggly Wiggly, Fiesta Mart, Rouses Food Market
Certifications:
HACCP and FSMA certified products. We are certified for entry into the US and across Europe based on these certifications.
Affiliations:
We are members of The Jamaica Exporters'Association (JEA) and work very closely with JAMPRO - Jamaica's Trade Promotions arm.
People in this company (1)
---
Contact this company through Start-Up Nation Central
Please fill the contact form below and you will be reached via email. Please note that messages must be in English