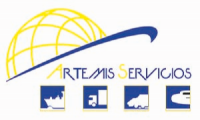 ARTEMIS SERVICIOS
Bolivia
26 employees
Established in 2006
Company description
---
Artemis Servicios, empresa dedicada al rubro logístico y aduanero, cuenta con el personal capacitado para garantizar una importación o exportación con éxito en todos sus requerimientos. Nuestro eslogan " ELIMINAMOS FRONTERAS, EXTENDEMOS HORIZONTES " da énfasis en el trabajo comprometido que tenemos con nuestros clientes al momento de entablar un compromiso. Tenemos el compromiso y responsabilidad con nuestros clientes, para brindar un trabajo que genere ganancias y nuevas oportunidades, al acortar toda burocracia en sus trámites.
Sector / Industry
---
Products and Services
Commercial information
---
Product and services:
IMPORT & EXPORT, TRAMITES ADUANEROS , SERVICIOS LOGISTICOS, CONSULTORIA EN COMERCIO EXTERIOR.
Main customers:
COMERCIAL INDUCENTER, PIPELINE CORROSION CENTER , MILLANEL COSMETICA , EXIM TECNOLOGIAS DE PRECISION , SUMAR LTDA.
Certifications:
En Proceso ISO 9000
People in this company (1)
---