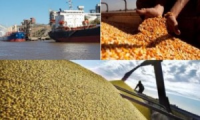 ARCADIAN SAS
Argentina
7 employees
Established in 2018
Company description
See translation
---
Comercializamos (commodities) Materias Primas y Productos de Alimentación Impulsamos a nuestros productores en el sistema alimentario apoyándolos a posicionarse en el mercado internacional. Abastecemos requerimientos Internacionales de distintos Mercados sobre la Industria de la Alimentación desde Origen a Destino. Contamos con una red extensa de contactos, productores y clientes en los 5 Continentes. Producción y Distribución de Agro-Alimentos y bebidas, (Aguas ,Gaseosas y Sodas) , vinos ( de Mendoza, AR), bebidas alcohólicas
Sector / Industry
---
Products and Services
Commercial information
---
Main customers:
exportación, Azucares, cereales, aceites, ¨comoditis en general¨
Certifications:
de los productores
Promotional marketing materials:
Badges
These badges certify that certain information declared by a company has been verified, so it can increase the reliability and visibility of its profile.
What does this badge mean?
ConnectAmericas has verified this company is legally constituted and the people linked to this enterprise are able to do businesses.
Contact this company through Start-Up Nation Central
Please fill the contact form below and you will be reached via email. Please note that messages must be in English