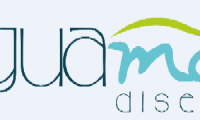 Aguamar Diseños
Colombia
4 employees
Established in 2014
Company description
---
Aguamar Diseños es una empresa Colombiana que desde el año 2010 se dedicada al diseño, fabricación y comercialización de vestidos de baño para mujer. En el año 2014 se afilio a la Camara de Comercio de Cúcuta, con la cual ha realizado varias capacitaciones. En el año 2016 gracias a su participación en el seminario de Alianzas para la Innovación, creo una nueva linea de bañadores dirigida a la comunidad. Esta nueva linea se caracteriza por tener diseños únicos con telas exclusivas. Diseños arriesgados, divertidos, creados según las necesidades, gustos, deseos y preferencias de la comunidad gay.
Sector / Industry
---
Products and Services
Commercial information
---
Product and services:
Vestidos de baño para mujer, bañadores para la comunidad gay, salidas de Baño, turbantes, accesorios.
Affiliations:
Camara de comercio de Cúcuta
People in this company (1)
---
Contact this company through Start-Up Nation Central
Please fill the contact form below and you will be reached via email. Please note that messages must be in English