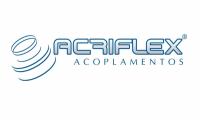 ACRIFLEX
Brazil
1 employee
Established in 2005
Company description
---
Acriflex Acoplamientos es una empresa brasileña establecida en la provincia de Santa Catarina, al sur de Brasil. Está especializada en el desarrollo, producción y comercialización de acoples, ofreciendo la mejor solución para aplicaciones industriales. | Acriflex Couplings is a brazilian company established in the province of Santa Catarina, south of Brazil. It is specialized in the development, production and distribution of couplings, offering the best solution for industrial applications.
Sector / Industry
---
Products and Services
Commercial information
---
Product and services:
Acoplamientos Flexibles; Acoplamientos de Precisión; Acoplamientos de Grilla; Acoplamientos de Engranaje; Repuestos tales como elementos de plástico, poliuretano o grilla; Entre otros. | Flexible Couplings; Precision Couplings; Grid Couplings; Gear Couplings; Replacement parts such as plastic, polyurethane or grid elements; Among others.
Presence:
Brazil, Paraguay, Argentina
People in this company (1)
---