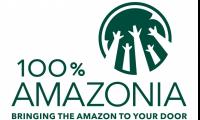 100% Amazonia Exportacao e Representacao Ltda.
Brazil
26 employees
Established in 2009
Company description
---
100% Amazonia is a trading company specialized in the creation, development and export of products and goods made from renewable non forest timber products from the amazonian rainforest. Established in 2009 by Fernanda Stefani and Joziane Alves, who met when they were studying at the University of Vienna in the 90s, 100% Amazonia vision is to keep the forest standing by utilizing the principles of triple bottom line. In this case: Sustainability x Fair Trade x Healthy products In 5 years of operation, the company has already exported to 38 countries and this number is growing every month.
Sector / Industry
---
Products and Services
Commercial information
---
Product and services:
Our product line includes: Clarified fruit juices Single strength pulps and purees Freeze dried powders Fruit and seed oils - cosmetic grade The fruits we deal with are: acaí, acerola, camu-camu, cupuaçu, guarana. The oils and butters we deal are: acaí, copaiba, cupuaçu, bacuri, andiroba, muru muru, buriti., Consulting services for building supply chains of resources from amazonian origin
Presence:
Australia, Austria, Belgium, Bolivia, Colombia, Canada, Croatia, Puerto Rico, Chile, Israel, Czech Republic, Denmark, China, Netherlands, United Kingdom, USA, Madagascar, South Africa, South Korea, Mexico, Peru, France, Poland
Main customers:
Meiraku (Sujahta), Amazonia Pty, Campbell Soup Co. , Able Sales Co.
Certifications:
ISO9001, HACCP, Organic
People in this company (3)
---
Contact this company through Start-Up Nation Central
Please fill the contact form below and you will be reached via email. Please note that messages must be in English