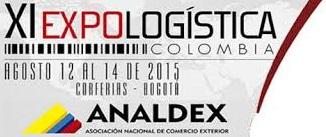 XI Expologística Colombia
August 12, 2015 to August 14, 2015
Bogota, Colombia
Expologística Colombia is one of the most important Logistics and Supply Chain events in Latin America and has established itself purely as a business fair, open only to specialized buyers and business professionals interested in making high-level contacts, purchase a good or service, conduct business and stay up-to-date with trends to be at the forefront of the industry.
In its eleventh edition, Expologística Colombia 2015 will be held from 12 to 14 August in Bogota bringing together over 100 industry leaders. In parallel to the trade fair exhibition, specialized conference workshops by industry and academic seminars, such as the XI International Congress of Logistics and the First Meeting of Leaders Logistics, will be held.
To see the rates to participate in the XI Expologística Colombia, click here.
For more information about the event: