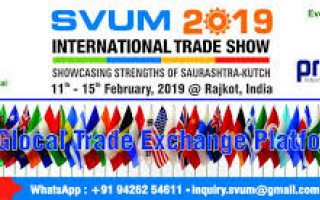 SVUM International Trade Show
11 February 2019 to 15 February 2019
Rajkot
The development starts from individual unit to national level; our aim is to create Glocal Platform for the smallest manufacturer of Saurashtra & Kutch region, which can lead to generate greater GDP for the nation.
The success of Make in India concept is also depends on the performance of MSMEs.
The development of textile industry, coconut farming, Auto Park, mining, IT – Electronic are major thrust areas where scopes for the developments are huge. Collective efforts can bring very good results for economical and social growth.
It is also observed that scopes for the bilateral trade development with the African continent, South Asian countries, European and American countries are good. We are strategically working on it so that we can create A Glocal Trade Exchange Platform in Saurashtra Kutch Region.