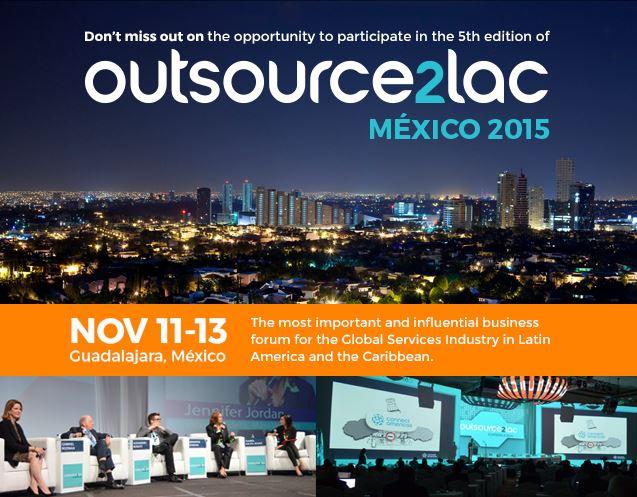 OUTSOURCE2LAC 2015
November 11, 2015 to November 13, 2015
Hotel Fiesta Americana Guadalajara
The Integration and Trade Sector of the Inter-American Development Bank (IDB), Mexico's Trade and Investment Promotion Agency (PROMEXICO), and the Government of the State of Jalisco are pleased to invite you to the Latin American and the Caribbean Outsourcing and Offshoring Summit, Outsource2LAC 2015, to be held in Guadalajara, Jalisco on November 11-13, 2015.
Outsource2LAC is the most popular and influential outsourcing offshoring summit of the region, where companies, associations and national agencies from the industry from around the world are called to attend and take advantage of meeting at the same place in one of the most dynamic regional markets: Latin America and the Caribbean.
The event provides an extraordinary opportunity for service buyers and suppliers to learn about current trends in the global outsourcing industry and to identify business opportunities. With the attendance of many regional and international companies and Trade and Investment Promotion Agencies, it constitutes a unique scenario to meet, network and engage with potential clients and trading partners, as well as to listen to some of the most influential professionals from the industry.
This event has been held since 2011. First, Outsource2LAC was held in Montevideo, Uruguay. In 2012, the event was held in Medellin, Colombia. In 2013, it took place in Buenos Aires, Argentina. Last year, it was held in Guatemala City, Guatemala. Outsource2LAC has been able to gather more than 600 global services companies from more than 20 Latin American and the Caribbean countries, as well as companies from the United States, Ireland, Spain, France, Egypt, India and The Philippines. More than 900 business match-making meetings were held generating more than US$ 12 million in immediate and future business deals for participant companies.