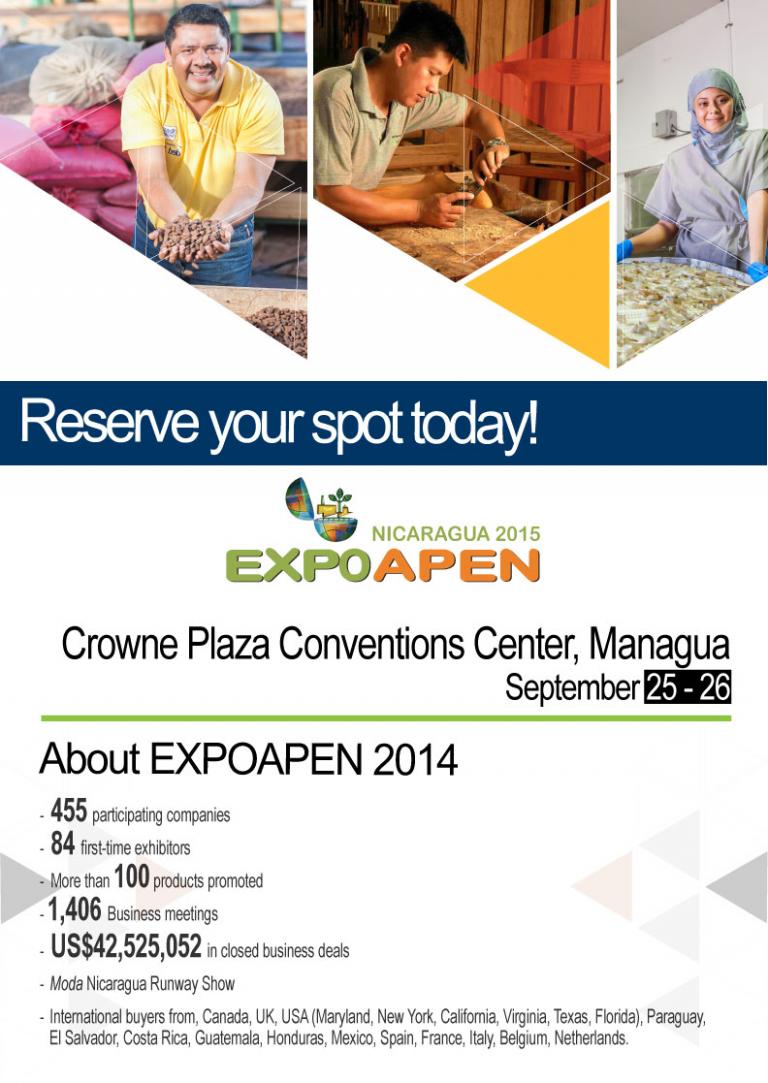 EXPOAPEN
September 25, 2015 to September 26, 2015
Centro de Convenciones Hotel Crown Plaza Managua
EXPOAPEN is an event with a long tradition specializing in business rounds and product exhibitions.
This year, EXPOAPEN celebrates its fifteenth anniversary and it has positioned itself as one of the most important events of its kind in the region for enterprises oriented towards export. Each one of its events has exceeded the previous ones both in size and results in terms of assistance of buyers and visitors, meetings and commercial transactions made.
Summary of EXPOAPEN:
455 participating enterprises
84 new expositions
1,406 business meeting
Pasarela Moda Nicaragua
US$42,525,052 in signed contracts
International buyers from: Canada, United Kingdom, USA, Paraguay, El Salvador, Costa Rica, Guatemala, Honduras, Mexico, Spain, France, Italy, Belgium, Netherlands
To register, send an email to exports@pronicaragua.org.ni or foffenburger@pronicaragua.org.ni with your company profile and details of your products of interest.
Friday 25 of September
10:15 - 11:15"The New Agricultural Revolution: Climatically Intelligent Enterprises"
11:15 - 12:15Food Market: Consumer tendencies and the new green market
12:15 - 14:00Lunch
14:00 - 15:00"Agroparks: A business model"
15:00 - 16:00How to implement greenhouse technology and irrigation systems?
16:00 - 16:15Coffee Break
16:15 - 17:00SME: Smart steps to sustainability
17:00 - 17:45Market Strategy: "Green Marketing"
Saturday 26 of September
9:00 - 9:30Inclusive Businesses: Using value chains to guarantee the future of your enterprise
9:30 - 10:00Link methodology as a tool to measure inclusiveness
10:00 - 12:00Panel on experiences of inclusive business in Nicaragua and Honduras
12:00 - 13:00Lunch
13:00 - 14:15Financing Value Chains
14:15 - 15:45Panel on Green Financing in Nicaragua
15:45 - 16:00Conclusions