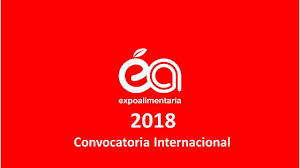 Expoalimentaria 2018
26 September 2018 to 28 September 2018
Lima
Expoalimentaria is the international fair for food, beverages, services, machinery, equipment, packaging and packaging for the largest food industry in the region, becoming the most important commercial platform in Latin America. Its seventh edition will take place from September 26 to 28 in Lima, Peru.
Position yourself before the opportunities of the fair.
Exhibit your products to the largest retail companies in the world such as CHEDRAUI, GOYA, WALMART, HAIN CELESTIAL, HYUNDAY HIPERMARKET, CARREFOUR, etc.
Close commercial links with companies in the region.
Increase your client portfolio
Show the benefits of your products in the Technical Trade Talks.
Promote your company through advertising packages (advertising in directory, web and signage).
Organize your social activities (cocktail, lunch, breakfast, etc.) with your potential customers. Improve yourself, improve your company.
Participate with your supplies in the halls of the fair.
Promote the visit to your company's plant, which will appear in the fair's programming and on the web.
Contact more than 3,429 international buyers from 5 continents and more than 45,090 professional visitors from the sector.
Acquire VIP invitations for your main clients.
Acquire a special invitation for the opening cocktail of the fair.
Present the services of your company in the Commercial Talks.
Participate in the Innovation contest and showcase your products to the world.
It appears in the list of exhibitors on the website.