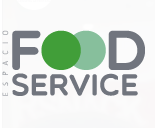 Espacio Food & Service 2023
September 26, 2023 to September 28, 2023
Format:
In person
Espacio Riesco
Get to know all the news, innovations, and trends in the food industry in one place.
Espacio Food & Service is the B2B meeting that generates new business opportunities and strengthens ties with business partners.
The event, which will take place between September 26 and 28, 2023, will be its ELEVENTH EDITION and will take place at the Espacio Riesco Events and Conventions Center, being the instance where the main players in the industry meet and show the latest news and trends in products, services, and technologies.
For more information: https://www.espaciofoodservice.cl/