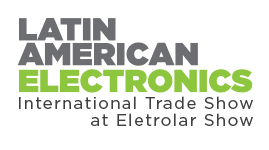 Eletrolar Show & Latin American Electronics International Trade Show
23 July 2018 to 26 July 2018
São Paulo, Brazil
Recognized as the largest B2B trade show in consumer electronics, major and small domestic appliances, furniture, mobile phones, housewares and IT in Latin America, Eletrolar Show & Latin American Electronics International Trade Show grow every year.
In its thirteenth edition, which will be held July 23-26, 2018, at the Transamerica Expo Center in São Paulo, 29 thousand qualified visitors are expected.
One of the highlights of the event is the sponsorship of the visit of 800 regional buyers, whose networks are based outside São Paulo, and of 200 purchasing professionals from South America countries, including Argentina, Bolivia, Chile, Colombia, Paraguay, Peru, Uruguay and Venezuela.
Besides the quality of the visitation and international projection, the trade show also stands out as the main showcase of trends and launches for the national and Latin American retail.
As the largest trade show in its segment, it brings industry and retail together, establishes brands, narrows relationships, eliminates trade barriers, creates partnerships and good deals.