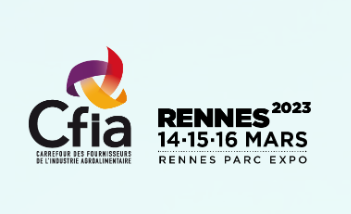 CFIA - Food Industry Trade Show
March 14, 2023 to March 16, 2023
Format:
In person
Parc Expo Rennes La Haie Gautrais 35172 Bruz.
The top exhibition in the food-processing sector.
In 2023, CFIA Rennes will take place from the 14th through the 16th of March at Rennes Parc Expo, at the heart of the top food-processing region of Europe. CFIA will also be celebrating its 26th edition, thanks to the support and loyalty of its exhibitors and visitors.
The 1 600 exhibitors are divided according to the exhibition's longstanding classification: Ingredients & Processed food products, Equipment & Processes, and Packing & Conditioning. They will offer the widest and most diversified product range in Europe for professionals in the food processing sector.
For more information: https://www.cfiaexpo.com/en