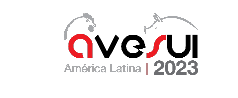 AveSui 2023
April 25, 2023 to April 27, 2023
Format:
In person
Av. October 24, 59 Industrial Area - Medianeira Paraná - Brazil
AveSui 2023 - Together in the largest animal protein agro cluster in Latin America!
We are very happy to share with you the news and the date of the next edition of AveSui América Latina, the main trade fair for the Latin American poultry and swine industry together with biomass and bioenergy.
AveSui, reaches its 22nd edition and will be held on April 25, 26, and 27, 2023, in Medianeira, Paraná, within a region that covers the Southern States, the triple border and where the largest center of the animal protein production in the world, close to agroindustries, cooperatives and producers.
With the participation of Brazilian and international exhibitors, AveSui has become a reference in the diversity of products and technologies that are successful all over the world and where visitors get to know first at our fair.
For more information: https://avesui.com.br/