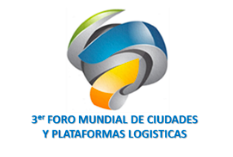 3rd World Forum: Cities And Logistics Platforms
30 November 2016 to 02 December 2016
Antiguo Convento de Santa María de los Reyes (Calle Santiago, 33. Sevilla, España)
OBJECTIVE
To bring together international trade professionals to discuss best practices in infrastructure development, trade corridors, strategic logistics platforms and new trends in multi-modal transport logistics worldwide.
ADDRESSED TO:
Transport professionals, distribution, logistics and customs agents worldwide.
Government officials in charge of foreign trade, customs, transport, ports, infrastructure planning public works, farming, agribusiness, industry and economic development.
Regional and municipal government officials (Governors, mayors, intendentes, City managers, City Council members, directors)
Chambers of Commerce, Exporters Associations, Business organizations representing transport, logistics and customs brokerage services.
Importers and Exporters.
Representatives of educational organizations (Universities and Institutes)
LOCATION
The Forum will take place in the old convent of Santa Maria de Los Reyes, a 15th-century building and abandoned in 1970 that has been restored as a place for events and Exhibition Hall.
With a capacity of up to 600 persons, exhibition areas and rest areas, it is an ideal place for events mixing tradition and antiquity of Seville with modernity and progress in the future.