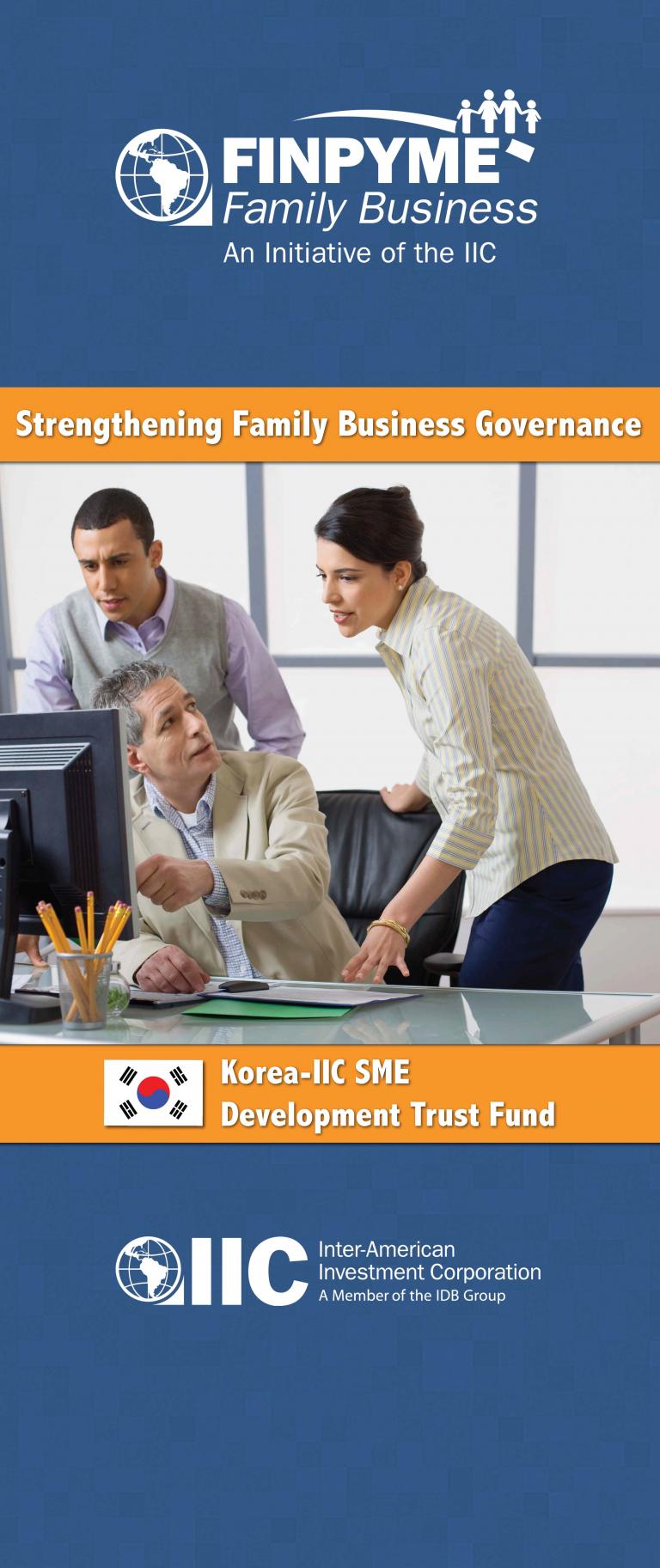 2014 IIC Governance Symposium
September 18, 2014 to September 20, 2014
Hotel WESTIN Playa Bonita, Ciudad de Panamá, Panamá
The 2014 IIC Governance Symposium will provide participants with an opportunity to learn about the multifaceted nature of family business governance. They will share their experiences in business, ownership, and family in a supportive environment with other Latin American family-owned companies who are facing similar challenges. The IIC seeks to offer participants a transformative educational experience on family business governance, providing them with specialized knowledge and skills unique to effectively governing their company.
Why Governance?
Only 3% of family companies worldwide survive into the fourth generation. To achieve this continuity, family businesses must ensure that the structures and processes of effective governance are in place. For example, succession must be planned and rules must be established to encourage a healthy dynamic between family and business. Together, these and other measures contribute to success and longevity of the family business.
Thursday 18 of September
2:00 PM - 2:45 PM Symposium opening and introduction, presentation of participants: Rebeca Sánchez de TagleGrand Halls 2 and 3
2:45 PM - 3:45 OMUnit 1: Introduction to the three circle model and development of stock-holder familiesGrand Halls 2 and 3
3:45 PM - 4:15 PMCoffee Break
4:15 PM - 5:15 PMCase 1: The company's situation before and after implementing a plan to improve corporate and family governanceGrand Halls 2 and 3
5:15 PM - 6:15 PMUnit 2: Education and visionGrand Halls 2 and 3
6:15 PM - 7:00 PMExercise 1: Generational challengesGrand Halls 2 and 3
8:00 PMCocktailArrecife Room
Friday 19 of September
8:30 AM - 10:30 AMUnit 3: Governance Structures for the Family BusinessGrand Halls 2 and 3
10:30 AM - 11:00 AMCoffee Break
11:00 AM - 12:00 PMUnit 4: Best Practices for the Board of DirectorsGrand Halls 2 and 3
12:00 PM - 1:00 PMUnit 5: Agreements to Regulate the Family-Shareholders RelationshipGrand Halls 2 and 3
1:00 PM - 2:30 OMLunch
2:30 PM - 3:45 PMCase 2: Panel on corporate governance for the family businessGrand Halls 2 and 3
3:45 PM - 4:00 PMCoffee Break
4:00 PM - 4:45 PMParallel SessionsGrand Halls 2 and 3
4:45 PM - 5:00 PMCoffee Break
5:00 PM - 5:30 PMUnit 6: Introduction to policy on employing family membersGrand Halls 2 and 3
5:30 PM - 6:30 PMExercise #2 – Development of policy on employing family membersGrand Halls 2 and 3
8:00 PM - 10:00 PMDinnerLas Bovedas Restaurant
Saturday 20 of September
8:30 AM - 10:45 AMUnit 7: Process for building trust and commitmentGrand Halls 2 and 3
10:45 AM - 11:15 AMCoffee Break
11:15 AM - 12:30 PMExercise #3 – Continuity plan for the family businessGrand Halls 2 and 3
12:30 PM - 1:00 PMParticipant PresentationsGrand Halls 2 and 3
1:00 PM - 2:00 PMLunch
2:00 PM - 3:00 PMUnit 8: Order or Manage? Reflections on leadershipGrand Halls 2 and 3
3:00 PM - 4:00 PMParticipant PresentationsGrand Halls 2 and 3
4:00 PM - 4:30 PMSymposium conclusionsGrand Halls 2 and 3
4:30 PM - 5:00 PMClosing CeremonyGrand Halls 2 and 3
Maria Fernanda Jaramillo
Consultant, Lansberg Gersick
Fernanda Jaramillo is a Senior Associate specializing in governance and strategy in family business, primarily in Central and South America. Immediately before joining LGA, Fernanda led a turnaround effort in a large family-owned retail business, designing the transition from family to professional management, establishing a formal board of directors with independent members and, prior to her departure, leading a reverse transition back to family management. Prior to this, Fernanda worked in a New York-based investment bank, providing strategic and financial advice to a large number of family businesses in Latin America. Her projects there involved strategic planning, mergers and acquisitions, capital raising, financial restructuring, management compensation, and shareholder agreements. In addition to her consulting work with LGA, Fernanda currently serves on several boards in Guatemala and Colombia. She holds a BS degree in Industrial Engineering and an MBA degree from the Haas School of Business, University of California at Berkeley. Fernanda is Colombian and speaks Spanish, English and Portuguese. She currently lives in Guatemala.
Ivan Lansberg
Consultant, Lansberg Gersick
Ivan Lansberg grew up in an entrepreneurial family in Venezuela. After receiving B.A., M.A. and Ph.D. degrees from Columbia University, he taught at the Columbia Graduate School of Business. Ivan was a professor of organizational behavior at the Yale School of Organization and Management for seven years before going into consulting. He has consulted with complex family businesses in the USA, Canada, Asia, Europe and Latin America, and has made significant contributions to the understanding of family business governance and succession. He was one of the founders of the Family Firm Institute (FFI) and the first editor of its professional journal, the Family Business Review. His latest book, "Succeeding Generations," published by Harvard Business School Press, has been widely praised as a landmark work. Ivan is a frequent speaker at family business programs organized by universities and industry groups. He is on the faculty of Kellogg School of Management at Northwestern University. He lives in Guilford, CT, with his wife, Margarita, and two sons.
Maria Dolores Moreno
Consultant, Lansberg Gersick
Maria Dolores Moreno has worked in the field of finance in family-owned businesses over the last twenty years. Before becoming a consultant, she was the Chief Financial Officer of a major family enterprise in Central America. During her professional career she has worked extensively on family business financing, mergers and acquisitions, financial restructuring, dividend policies, stock ownership programs and executive compensation. As an internal advisor, and later on as a consultant, she has been actively involved in continuity planning in large cousin consortiums. In those capacities she has been responsible for coordinating among family members, external advisors, and legal counsel, the design and implementation of ownership and governance structures, estate plans, shareholders´ agreements, succession plans and retirement plans. Maria Dolores is a Fulbright alumna and holds an MBA degree from the Peter F. Drucker Graduate School of Management. She lives in Guatemala.
Heon Deok Yoon
Professor, Universidad de Soongsil
Heon Deok Yoon is a professor in The Department of Entrepreneurship and Small Business at Soongsil University, Seoul Korea. He received his Ph.D. in International Business from The Ohio State University. He has been lecturing in various universities and MBA programs worldwide, such as Helsinki School of Economics and Business Administration, Michigan State University, University of Ljubljana(ICPE-MBA) and Tianjin Enterprise Management Center. His research areas include globalization strategy of small business, entrepreneurship and innovation, management of technology and innovation. His major research works and publications are A Study on the Factors of the Prevalence of Entrepreneurial Activities in Fashion and Distribution Industry(2003), The Changes of the Promotion and Industrial Policies on SMEs in Brazil(2004), Social Capital in Asia ; An Exploratory Study(APO, 2006), Basic Research Report ; Social Capital and Business Transformation in Asia(APO, 2008), Family-Owned Small and Medium Sized Enterprises Governance in Latin America and Caribbean Counties(IIC, IDB, 2008), Technological Innovation and Its Significance for SMEs(2009), The Impact of Technological Innovation Capability on Korean SMEs' Internationalization (2013).
Mario Mahler
Corporate Gobernance Advisor, IIC
Mario Mahler was born and grew up in São Paulo, Brazil. He has experience in lending to and investing in private sector companies and financial institutions in Latin America. He joined the Inter-American Investment Corporation in 1992 and retired in 2010. In 2009 and 2010, Mr. Mahler worked in developing the IIC Equity Investment Unit, as an advisor to the General Manager. From 2001 to 2008, Mr. Mahler was the IIC's Chief Credit Officer, reporting to the General Manager. He headed the Credit Unit and chaired the credit committee and the special operations committee (special assets unit). Before the creation of the Credit Unit, Mr. Mahler started the Special Assets Unit in 1997 and then headed this unit until 2001, reporting to the General Manager. Before, he worked as a project officer, coordinating the business origination and processing of corporate projects in Chile, Ecuador, and Peru. Mr. Mahler began his career in banking as a corporate lending officer with Citibank in Brazil, where he worked for ten years. Between 2002 and 2007, Mr. Mahler served on the Board of Directors of Corporación Interamericana para el Financiamiento de Infraestructura S.A. - CIFI (www.cifidc.com), and chaired CIFI's audit committee. In 1990 and 1991, Mr. Mahler served on the Board of Directors of CADERI Capital de Risco, a Brazilian private equity fund managed by Companhia Riograndense de Participações - CRP (www.crp.com.br). Mr. Mahler has a bachelor's degree in business administration from the Getúlio Vargas Foundation School of Business Administration in Brazil (www.eaesp.fgvsp.br) and a master in business administration from the Harvard Business School, Boston, Massachusetts (www.hbs.edu).
Rebeca Sánchez de Tagle White
Corporate Governance Specialist of the Inter-American Investment Corporation (IIC)
Rebeca Sánchez de Tagle White is the Corporate Governance Specialist of the Inter-American Investment Corporation (IIC), and coordinator of the family governance and corporate governance programs for IIC clients. Her responsibilities include conducting the assessments of corporate governance of IIC's potential clients and preparing action plans. Ms. Sanchez de Tagle is also in charge of organizing training seminars for family businesses in Latin America and the Caribbean, and designing and executing the technical assistance programs to support IIC clients in implementation. Rebeca Sanchez de Tagle has a BA from Tulane University and a Master's Degree from The Fletcher School of Law and Diplomacy (Tufts University). She is part of a family-owned business herself and a member of the Family Firm Institute and has participated as either a conference speaker or organizer in more than a dozen educational programs on governance for family-owned companies.