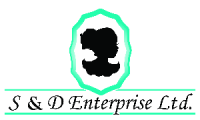 S&D ENTERPRISE LTD
Cayman Islands
26 employees
Established in 2016
Company description
See translation
---
S&D Enterprise Ltd Health and Beauty products, is a Wholesale/ Retail Store. We are multi-cultivated, our company products are for Hair, Beauty and Skin care with certified all natural Organic/Vegan ingredients. All products are Eco-friendly and can be use for kids/ adults with allergies. We will carry a wide rage of Award winning Hair products for Type 4 A,B&C Hair( Kinky / curly hair) and Skin care for all. OBIA NATURAL HAIR CARE is one of our Top selling products and the brand won Editors Choice 2016 Award by NaturallyCurly. #1 for favorite Shampoo Bar, Curl Moisture Cream and Curl Hydration Spray. All products we have in store are feature in Ebony Magazine, Essence Magazine, HoneyBNatural Magazine and much more. S&D Enterprise is all about giving our customer's the best of what the world and our own locals have to offer. All products are cruelty free (no animal testing) and some products are vegan (no honey, beeswax, goats milk, animal protein, etc). *NO: 1. Sulfates 2. Parabens 3. Mineral Oil 4. Petroleum 5. Phthalates 6. DEA 7. Synthetic Colors 8. Drying Alcohols All preservatives used are both paraben and formaldehyde free. All fragrances are phthalate free, with PH Balanced. You can find us on Facebook, Twitter, snap chat, pinterest, Google+, Instagram, caymanmalls, Chamber of commence, YouTube, Club save, CISBA Cayman Islands and much more. Offering the finest in Skin & Hair products such as : OBIA NATURAL, CURLS ( Babies, Kids & adults), MIELLE ORGANICS, NATURAL CLEAN SOAPS AND A FEW MORE.
Sector / Industry
---
Products and Services
Commercial information
---
Product and services:
OFFERING THE FINEST IN SKIN AND HAIR PRODUCTS SUCH AS MIELLE ORGANICS, OBIA NATURALS, CURLS ( BABIES,KIDS & ADULTS) NATURAL CLEAN SOAPS AND SO MUCH MORE. OUR PRODUCTS ARE VEGAN ALONG WITH PH BALANCED. ORGANIC SKIN & HAIR PRODUCTS FOR MEN, WOMEN AND EVEN BABIES. CURTLY FREE
Presence:
Cayman Islands, USA
Main customers:
NATURAL HAIR CUSTOMERS, GOVERNMENT WORKS, RELAXED / PROCESS HAIR, MOTHERS/ PARENTS. CUSTOMERS WITH ALLERGIES.
Certifications:
TRADE & BUSINESS LICENCE, SMALL& MICRO BUSINESS WORKSHOP, PHLEBOTOMIST OF THE REGION AWARD, MERITORIOUS SERVICE AWARD.
Affiliations:
CAYMAN ISLAND CHAMBER OF COMMERCE, CISBA Cayman Islands, COSME GROUP, CLUB SAVE.

This company is not yet verified
People in this company (1)
---
Contact this company through Start-Up Nation Central
Please fill the contact form below and you will be reached via email. Please note that messages must be in English