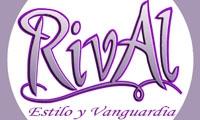 RIVAL Estilo y Vanguardia
Chile
26 employees
Established in 2006
Company description
---
RIVAL es una marca de moda de autor chilena, dedicada a la moda femenina, y especializada en alta costura, vanguardia y comercial, su producto estrella es la corseteria urbana, que es protagonista en sus colecciones. Desde su creación en 2006 RIVAL ha lanzado mas de 20 colecciones, dedicadas a la mujer con carácter y sensualidad. Pretendemos crear un nuevo estilo, y llevarlo a cada rincón del mundo.
Sector / Industry
---
Products and Services
Commercial information
---
Product and services:
RIVAL, realiza exclusivas colecciones de moda de autor, las cuales incluyen variedad de prendas femeninas, entre ellas. Corsés- Vestidos - Blusas- Pantalones - Chaquetas - Faldas - Abrigos Asesoría de imagen personalizada. , Realizamos asesoría completa para eventos, que incluye vestuario, calzado,joyería, maquillaje y peinado. Trabajamos especialmente con Novias, Madrinas, Graduaciones y Galas.
Affiliations:
Estilo EsCencial, AntiModa

This company is not yet verified
People in this company (1)
---
Contact this company through Start-Up Nation Central
Please fill the contact form below and you will be reached via email. Please note that messages must be in English