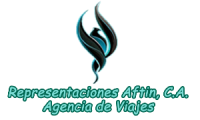 Representaciones Aftin, C.A.
Venezuela
26 employees
Established in 2012
Company description
---
Nuestra Agencia de Viajes, ya con 4 años de servicio, tiene como objetivo principal Integrarse en el Sector Turista, como la empresa mas innovadora y dedicada al servicio, con mayores ofertas de interés publico y eventos recreativos.
Sector / Industry
---
Products and Services
Commercial information
---
Product and services:
Hoteles, Vuelos, Cruceros, Eventos, Circuitos turísticos.
Affiliations:
Hotelspro, NH Hotels, Turaser.

This company is not yet verified
People in this company (1)
---