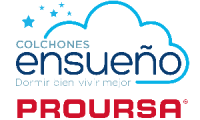 PROURSA
Costa Rica
76 employees
Established in 1969
Company description
---
La Misión: Producir eficientemente bienes de calidad en la industria de la espuma de uretano y colchones, brindando salud y descanso a las personas, con el servicio al cliente como la base para la comercialización y las ventas. La Visión: Ser los líderes en calidad y participación del mercado nacional de productos de uretano, con importantes exportaciones y tecnología de punta en nuestras líneas productivas para optimizar el rendimiento en la producción y generar así utilidades. Los Objetivos: - Contar con un recurso humano capacitado y motivado hacia la filosofía de hacer las cosas bien la primera vez y el servicio al cliente. - Tener eficiencia en los procesos productivos para aumentar nuestras utilidades y así poder suplir la inversión necesaria para adquirir nueva tecnología en maquinaria que minimice los costos de producción. - Mantener bajo el nombre comercial de Proursa, un mercadeo directo y estratégico para la comercialización de la espuma de uretano por ser un producto de características homogéneas para el consumidor. - Posicionar la marca Ensueño, calidad Proursa, en el mercado como sinónimo de calidad a través de la línea de colchones y subproductos relacionados para el consumidor final. POLÍTICA DE CALIDAD Nuestro compromiso con la calidad es fabricar productos a base de las mejores materias primas de la industria de la espuma de uretano, con procesos productivos organizados, eficaces y rentables que brinden a nuestros clientes artículos de excelente calidad para dormir y descansar. A través de personal motivado, sano y competente, con la filosofía de hacerlo bien la primera vez, buscamos una mejora continua en la calidad de manufactura de nuestros productos y reinvertir utilidades en maquinaria de nueva tecnología productiva y armonía con el medio ambiente, logrando el liderazgo en la industria del descanso en el mercado Costarricense.
Sector / Industry
---
Products and Services
Commercial information
---
Product and services:
Colchones Ortopédicos, Almohadas, Cojines ortopédicos, Colchonetas salto y gimnasia, Plays de Estimulación temprana y Espuma de poliuretano.
Main customers:
3M Costa Rica, Colchones Selther, Standard Fruit Company, Teradyne, CCSS Costa Rica
Certifications:
En proceso de certificación ISO9001 2015
Affiliations:
Camara de Industrias de Costa Rica, PYME Ministerio Ciencia y Tecnologia CR, Amigo Ozono MINAE CR

This company is not yet verified
People in this company (1)
---
Contact this company through Start-Up Nation Central
Please fill the contact form below and you will be reached via email. Please note that messages must be in English