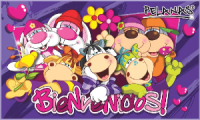 PELANAS SAS
Colombia
101 employees
Established in 1985
Company description
---
We are a Colombian company committed to creating original characters with messages and innovative items that transmit feelings of love and friendship, while maintaining high quality standards in all of our products and processes. We have achieved permanence and exclusiveness on the market because our products bring a special meaning to the consumer and a unique experience. For this reason, throughout the years, our brand has positioned itself as the ideal gift in the social expression market. Somos una empresa 100% Colombiana con el compromiso de crear personajes con mensajes y artículos innovadores que transmitan sentimientos de amor, ternura y afecto. Preocupada siempre por mantener altos niveles de calidad, logrando así la permanencia y exclusividad en el mercado. Es importante resaltar que más allá de ser productos únicos por su diseño y calidad buscamos que a través de ellos se trasmita una experiencia y un significado para la persona que lo recibe, yendo más allá de lo que el comercio ofrece normalmente con este tipo de productos. Es por todo esto que nuestra marca ha generado a través de los años recordación en el mercado de la expresión social logrando ser el producto ideal para regalar.
Sector / Industry
---
Products and Services
Commercial information
---
Product and services:
Muñecos en peluche, cojines bordados, mantas bordadas, tarjeteria, chocolates, Plush Toys, embroidery cushions, embroidered blankets, Gift cards, Chocolates, notebooks, decorative pictures.
Presence:
Guatemala, Venezuela, Costa Rica, Ecuador
Main customers:
Distribuidores, comercializadores
Certifications:
CERTIFIED QUIALITY

This company is not yet verified
People in this company (1)
---
Contact this company through Start-Up Nation Central
Please fill the contact form below and you will be reached via email. Please note that messages must be in English