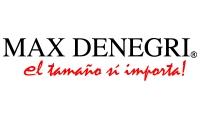 Maxdenegri
Chile
5 employees
Established in 2002
Company description
---
We are an innovative company that offers a unique product in the Latin American market. We sell high shoes for men, between 6-10 cm, whose main feature is that it seems an ordinary shoe. We offer a wide range of products, from sport shoes to dress shoes. Vision: To contribute to quality of life for our customers, providing footwear with style and modernity, focused on the quality and comfort of our products. Mission: To become the leading supplier of shoes height Latinoamércia, through the positioning of our outlets, developing our franchises and the strength of our e-commerce. Value proposition: quality products, excellence in service to our customers, diversity in our products, functionality and comfort, style and cutting edge design.
Sector / Industry
---
Products and Services
Commercial information
---
Main customers:
Men, height under 1.80 cm
Affiliations:
Camara de Comercio de Santiago, Asociación de emprendedores de Chile.

This company is not yet verified
People in this company (1)
---