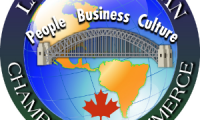 Latino Canadian Chamber of Commerce
Canada
26 employees
Established in 2009
Company description
See translation
---
Latino Canadian Chamber of Commerce; identificada con la sigla, - LCCC - es una organización gremial sin ánimo de lucro, de carácter federal, que se estableció en junio del año 2009, en la ciudad de Edmonton, Provincia de Alberta, Canadá y que agrupa mas de 140 empresas y seguimos creciendo. Se anuncia la apertura oficial de Latino Canadian Chamber of Commerce, British Columbia Chapter, el 18 de Octubre del 2014, proceso que se inicia con la participación de siete (7) emprendedores y un sponsor pionero, culminando el proceso de incorporación legal el 21 de mayo del 2015, reconocimiento que queda registrado en la provincia de British Columbia, Canada, con el numero S-0063983. Iniciando una 2da fase de empoderamiento a partir de enero del 2016, en la cual nos encontramos. http://latinocanadianchamberofcommerce.ca http://latinocanadianchamberofcommerce.ca/q
Sector / Industry
---
{{industry.name}}
Products and Services
{{pas.productName}}
HS code: {{pas.hsCode | limitTo: 23}}
Show more
Commercial information
---
Product and services:
Membresía, Consultoría, Asesoría, Business Coaching, Expo exhibición, mas, Información Empresarial, Oportunidades de Negocio, Capacitación , Proyectos Internacionales , Servicios Especializados
Main customers:
Afiliados miembros locales, nacionales e internacionales, mas, cientos de empresas en Canadá y millones de personas de personas en Canadá y el mundo. Podemos llegar mas lejos....
Certifications:
Ninguna por el momento, pero trabajamos en ello.
Affiliations:
Latino Canadian Chamber of Commerce
Badges
These badges certify that certain information declared by a company has been verified, so it can increase the reliability and visibility of its profile.

This company is not yet verified
Contact this company through Start-Up Nation Central
To get in touch with the ConnectAmericas support team, please send an e-mail with your request to soporte@connectamericas.com and we will get back to you briefly.