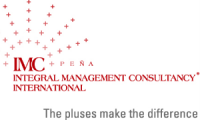 IMC Integral Management Consultancy GmbH
Switzerland
176 employees
Established in 2003
Company description
---
IMC is unique. A worldwide active consultancy organization, with a local understanding of today's business reality. Our people are C-Level experienced leaders and managers, operating today as business advisors through and with IMC. IMC's experts are operating as entrepreneurs and independent business advisors providing skills and experience across a broad range of industry sectors. We actively support clients, from SMEs and start up initiatives, to multinationals businesses. We are organized in local companies with partners and business advisors, supported by business associates. We deliver expert support in the key areas of Mergers and Acquisitions, Management Consultancy, Interim Management, Professional Services, Human Capital Management and Executive Search. IMC support clients in expanding their business worldwide, optimizing issues and topics related to the IMC's advisory circle "PEOPLE, PROCESS, PERFORMANCE, PRODUCTS, PROFIT and GROWTH". Thanks to the breadth and depth of our consultants' expertise, we can quickly understand your situation, create practical solutions and produce viable, measurable results, with benefits that last long after our engagement. Our professionals are all senior executives with successful track records in small, medium and multinational environments. We are flexible, hands-on and dedicated to delivering the IMC pluses that will add real value to your company.
Sector / Industry
---
Products and Services
Commercial information
---
Product and services:
Servicios Financieros, Fusiones y adquisiciones, Finanzas Corporativas, Consultoría Estratégica
Presence:
Canada, Brazil, China, Argentina, Peru, Romania, Spain, Switzerland, Netherlands
Main customers:
Leading Frozen Food in Spain, European Building Material Company, Automative Industry, etc.
Affiliations:
Chamber of Commerce in Switzerland.

This company is not yet verified
People in this company (1)
---
Contact this company through Start-Up Nation Central
Please fill the contact form below and you will be reached via email. Please note that messages must be in English