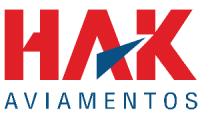 HAK Aviamentos
Brazil
226 employees
Established in 1958
Company description
---
HAK Aviamentos is a leading passementarie ans Trimmings manufacturer in Brazil. Our three industrial parks with more than 18,000 m² and constant investments in technology make HAK a major supplier for several segments: from the apparel, underwear, shoes, crafts industries to supplies for the greatest show on Earth: the Brazilian Carnival. VISION To continue as a "reference" in the passementarie segment, both in marketing and in manufacturing in an innovative way, develop sustainably and share our values. MISSION To supply the textile accessories market, "creating details" in a "sustainable way" and "surpass the expectations of internal and external customers", and develop new business.
Sector / Industry
---
Products and Services
Commercial information
---
Product and services:
Trimmings, Elastics.
Affiliations:
FIrjan, Abit

This company is not yet verified
People in this company (1)
---