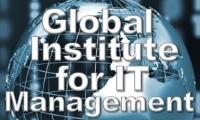 Global Institute for IT Management
USA
250 employees
Established in 2011
Company description
---
The objective of the Global Institute for IT Management (GIIM) is to impart a complete, flexible, and immediately actionable set of best practices by an international group of over 250 prominent academics, practitioners, and management consultants, to prepare IT thought leaders and business executives for the challenges and opportunities that lie ahead. The institute provides a comprehensive set of 32 IT management certificates. After launching its initial offerings in 2011 with about 100 students, GIIM is primed to have over 1,000 candidates participating in programs during 2014. GIIM participants range from university students to CEOs from around the globe. The sweet spot for GIIM Certificates are IT professionals with 10+ years of experience.
Sector / Industry
---
Products and Services
Commercial information
---
Main customers:
See our web.
Certifications:
Programs applied to Masters Degrees in dozens of universities around the globe.
Affiliations:
SIM, AIS, CIOnet

This company is not yet verified
People in this company (1)
---
Contact this company through Start-Up Nation Central
Please fill the contact form below and you will be reached via email. Please note that messages must be in English