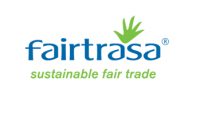 Fairtrasa
Switzerland
30 employees
Established in 2005
Company description
---
Fairtrasa is a social enterprise that lifts small-scale farmers out of poverty by selling healthy organic and fairtrade produce, grains and wine to international markets at fair prices.
Fairtrasa's award-winning three-tier farmer development model provides subsistence, semi-skilled, and experienced farmers with seeds, capital, tailored training programs, and technical support. As a result, farmers increase yields, improve quality and are paid fair prices for their produce - often up to 10 times higher than local markets.
Partner with Fairtrasa for your fruit sourcing needs:
We represent over 20,000 small-scale farmers & their families from Latin America.
We deliver sustainably-grown organic and fairtrade fruit of the highest quality.
Our global operations are vertically-integrated, giving us full control the fruit from tree to shelf.
Our expertise in logistics guarantees efficient, well-planned & reliable delivery.
Our growing network of small producers ensures year-round availability of a wide range of fruit.
Sector / Industry
---
Products and Services
Commercial information
---
Main customers:
USA, UK, Continental Europe, and China
Certifications:
Organic, Fairtrade, GLOBALGAP

This company is not yet verified
Contact this company through Start-Up Nation Central
Please fill the contact form below and you will be reached via email. Please note that messages must be in English