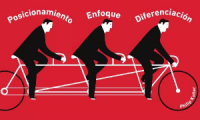 CRM
Guatemala
26 employees
Established in 2007
Company description
---
Somos un equipo de trabajo con experiencia en desarrollar mercados, en todo su contexto, bajo ejes estratégicos de: Promoción Comercial, Competitividad, Productividad, Inteligencia de Mercados tanto para exportación como importación, Responsabilidad Social Empresarial, Normas y Certificaciones, Diseño de Innovación, Diseño de Diferenciación, Diseño de Simplificar, talento de recurso humano, Innovación, investigación y desarrollo, transferencia de tecnología, entre otros. Nos especializamos en toda la cadena de valor, desarrollando propuestas de valor diferenciadas, en desarrollo de modelos de negocio exitosos. Hemos abierto mercado para Industria de Calzado, bebidas, alimentos, Agro Industriales, agrícolas, café, entre otros, en Europa, USA, México, el Caribe, y países de Sur América.
Sector / Industry
---
Products and Services
Commercial information
---
Product and services:
Calzado, Vestuario, Bambú, café, Artesanías Guatemalteca.
Presence:
Guatemala, Panama, Mexico, Costa Rica, Dominican Republic, Spain
Main customers:
BambuMaya, El Cafetalito
Certifications:
ISO:9001/2015
Affiliations:
Agexport, Inescop, Cámara de Industria, Asociación de Gerentes

This company is not yet verified
People in this company (1)
---
Contact this company through Start-Up Nation Central
Please fill the contact form below and you will be reached via email. Please note that messages must be in English