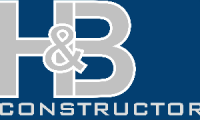 Consorcio H&B Constructora
Paraguay
26 employees
Established in 2005
Company description
---
Somos una empresa constructora de pequeño a mediano porte, dedicada a proyectos, construcción, dirección y administración de obras civiles en general, capaces de responder a necesidades de edificios de todo tipo, casas, parques residenciales, loteamientos y barrios cerrados, estructuras de hormigón de todo tipo tanto para edificaciones como para componentes de obras viales, silos, tinglados y galpones industriales. Así mismo, hacemos proyectos, construcción y montajes de estaciones de tratamiento de aguas y efluentes de nuestra propia marca.
Sector / Industry
---
Products and Services
Commercial information
---
Product and services:
Plantas de Tratamiento de Agua, Plantas de Tratamiento de Efluentes, Obras Civiles e Industriales
Main customers:
Constructora Civil e Industrial SAECA, Incop S.A., AGROTEC S.A., Metálicos y No Metálicos S.A. – Mineral Advisory Group (Tucson, Az, EUA, ADM Paraguay S.A., Inmobiliaria del Este S.A.
Affiliations:
UIP, AHK, CU, CC

This company is not yet verified
People in this company (1)
---