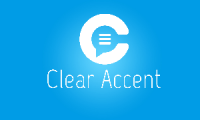 Clear Accent translations
United States Minor Outlying Islands
26 employees
Established in 2014
Company description
---
Clear Accent is a localization service provider that helps global enterprises increase the international market share and adoption of products in global markets worldwide. We will help you in delivering fast, accurate language translation services to your international clients across multiple sectors and time zones. We have an extensive network worldwide of professional linguists and PMP's (Project Management Professionals) that are capable of providing both quality and affordable translation services in more than 90 languages for a wide variety of language. Currently specializing in leading software localization, website localization, editing, proofreading, typesetting and social media translation.
Sector / Industry
---
Products and Services
Commercial information
---
Product and services:
translations, project management, localization, DTP, Global SEO.
Presence:
United States Minor Outlying Islands, Italy
Certifications:
Six sigma, PMP

This company is not yet verified
People in this company (1)
---
Contact this company through Start-Up Nation Central
Please fill the contact form below and you will be reached via email. Please note that messages must be in English