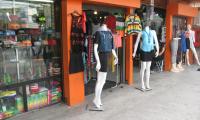 Centro Comercial 14
Chile
26 employees
Established in 2001
Company description
---
CENTRO COMERCIAL 14 es el punto de encuentro de la juventud que busca un new look bajo un punto de vista alternativo e independiente. Vicuña Mackenna poniente 7149, La Florida, Santiago, Chile.
Sector / Industry
---
Products and Services
Commercial information
---
Certifications:
A great place for youth looking to update their look with alternative and independent style.
Affiliations:
Cámara de Comercio y Emprendimiento CEC-SIDECO

This company is not yet verified
People in this company (1)
---
Contact this company through Start-Up Nation Central
Please fill the contact form below and you will be reached via email. Please note that messages must be in English