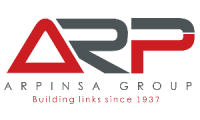 Arpinsa de CV
Honduras
26 employees
Established in 1937
Company description
---
We are a group of leading corporations involved in the development of long-term business relations with every of our customers, through the building of collaboration links, trustiness, and mutual interests. We bring values as efficiency, quality, integrity and professionalism through our permanent apprenticeship program, and practicing the creativity and so the innovation. As an active Partner at the communities where we operate, we show our integrity and corporate responsability to perform and to develop business in total harmony with our environment.
Sector / Industry
---
Products and Services
Commercial information
---
Product and services:
Management of Resources, Projects and Investments; Management Consulting; Training and Certification (ISOs, HACCP, OHSAS); Cargo Superintendence and Control ; Integral Transportation Logistics; Business Representatives.
Affiliations:
CCIC, AHACI, ALACAT, FENADUANAH.

This company is not yet verified
People in this company (2)
---
Contact this company through Start-Up Nation Central
Please fill the contact form below and you will be reached via email. Please note that messages must be in English