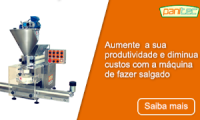 APITEC MÁQUINAS INDUSTRIAIS LTDA - EPP
Brazil
26 employees
Established in 1999
Company description
---
Apitec, fue fundada em 1999 y desde entonces há ido creciendo y reafirmando la tradición en la apicultura y la producción de equipos especiales y máquinas para el mercado de la panaderia. Nuestra misión: Nos esforzamos por satisfacer las necesidades del cliente, proporcionando una rápida respuesta y agilidad en la resolución de problemas. Ofertamos equipos y servicios que contribuyan a mejorar la calidad de vida, la generación de riqueza de forma sostenible, preservando el médio ambiente y con respeto social.
Sector / Industry
---
Products and Services
Commercial information
---
Product and services:
1. Small savory snacks and sweets - Machine for producing small - medium and large snacks PANFORM-5000 – Analog, Digital e PLC, 2. Cheese Bread Machine. Automatic cheese bread and butter cookies producing machine FB-500-E with belt conveyor, 3. Cheese Bread Machine Automatic cheese bread and butter cookies producing machine FB-500 M with tray holding case – FB-500 S- without tray holding case, 4. Automatic fried and cooked empanadas, puff pastry and pierogi producing machine Lynea 300 – Lynea 400 – Lynea 600, 5. Automatic garlic bread producing, anti-mold applying, and packing machine RPA-1000 – AE – RPA-1000-L – RPA-3000-AE – RPA-3000-L, 6. Filling / dosing machine Semi-automatic – EP line. EP-1000 - Capacity from 15 up to 1000 ml EP-150 - Capacity from 5 up to 150 ml, 7. Anti-mold and coating application machine for breads, pizzas, cakes, pies, etc.

This company is not yet verified
People in this company (1)
---