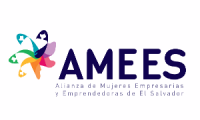 AMEES (Alianza de Mujeres Empresarias y Emprendedoras de El Salvador)
El Salvador
Established in 2013
Company description
---
Amees es la Alianza de Mujeres Empresarias y Emprendedoras de El Salvador y se formó con la finalidad de que mujeres líderes, dueñas de pymes y pymes emergentes con impacto social encuentren un espacio de apoyo, crecimiento y desarrollo fomentando el "empoderamiento" económico e integral de la mujer.
Sector / Industry
---
Products and Services
Commercial information
---
Product and services:
En la Alianza tenemos mujeres productoras de los sectores de varios sectores. ALIMANTOS GOURMET, ACCESORIOS, TEXTILES, BISUTERÍA, SERVICIOS VETERINARIOS, SERVICIOS LEGALES, SERVICIOS DENTALES, JABONES, CUIDO PERSONAL, ETC.
Main customers:
Mercado Local
Certifications:
Varias empresarias ya tienen sus certificaciones.

This company is not yet verified
People in this company (1)
---
Contact this company through Start-Up Nation Central
Please fill the contact form below and you will be reached via email. Please note that messages must be in English