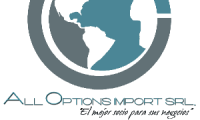 ALL OPTIONS SRL
Bolivia
26 employees
Established in 2010
Company description
---
ALL OPTIONS S.R.L. es una joven empresa boliviana legalmente constituida con más de 5 años de experiencia realizando aperturas de mercado para productos nacionales como ser Chía, Quinua, Sésamo, Maca, Amaranto, Maíz y otros granos. Nuestra empresa actualmente trabaja con alrededor de 15 productores nacionales para este y otros tipos de productos, debida a la alta demanda de compradores con los que contamos en el extranjero, estamos siempre dispuestos a conseguir y poder ampliar nuestra red de proveedores / productores, llevando siempre por delante la lealtad, calidad y honestidad, ofreciendo de esta manera, el mejor producto y servicio a nuestros clientes.
Sector / Industry
---
Products and Services
Commercial information
---
Product and services:
Outsourcing Comercial, Gestión de compras, Apertura de Mercados, Importación, Exportación, Asesoría Comercial y Logística.
Affiliations:
Cámara Nacional de Comercio, Cámara Nacional de Exportadores, Global Trade Chamber ILS.

This company is not yet verified
People in this company (1)
---
Contact this company through Start-Up Nation Central
Please fill the contact form below and you will be reached via email. Please note that messages must be in English