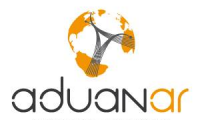 Aduanar
Argentina
26 employees
Established in 2007
Company description
---
Consultora en Comercio Exterior, Despachante de Aduanas, Broker.
Sector / Industry
---
Products and Services
Commercial information
---
Product and services:
Aduanar constituye una plataforma exportadora, Organizamos ferias y misiones , Acompañamos a las empresas en el extranjero y realizamos todo tipo de trámites para el comercio exterior. Asesoramos en la comercialización de productos alimenticios, minerales, textil, electrónica, materiales de construcción, joyas, maquinaria, productos quimicos, y gran variedad de otros productos.
Presence:
Argentina, Cuba, India, China, Spain, Italy, Germany, United Kingdom, Russia
Main customers:
Grandes, medianas y pequeñas empresas, o particulares interesados en el comercio internacional.

This company is not yet verified
People in this company (1)
---